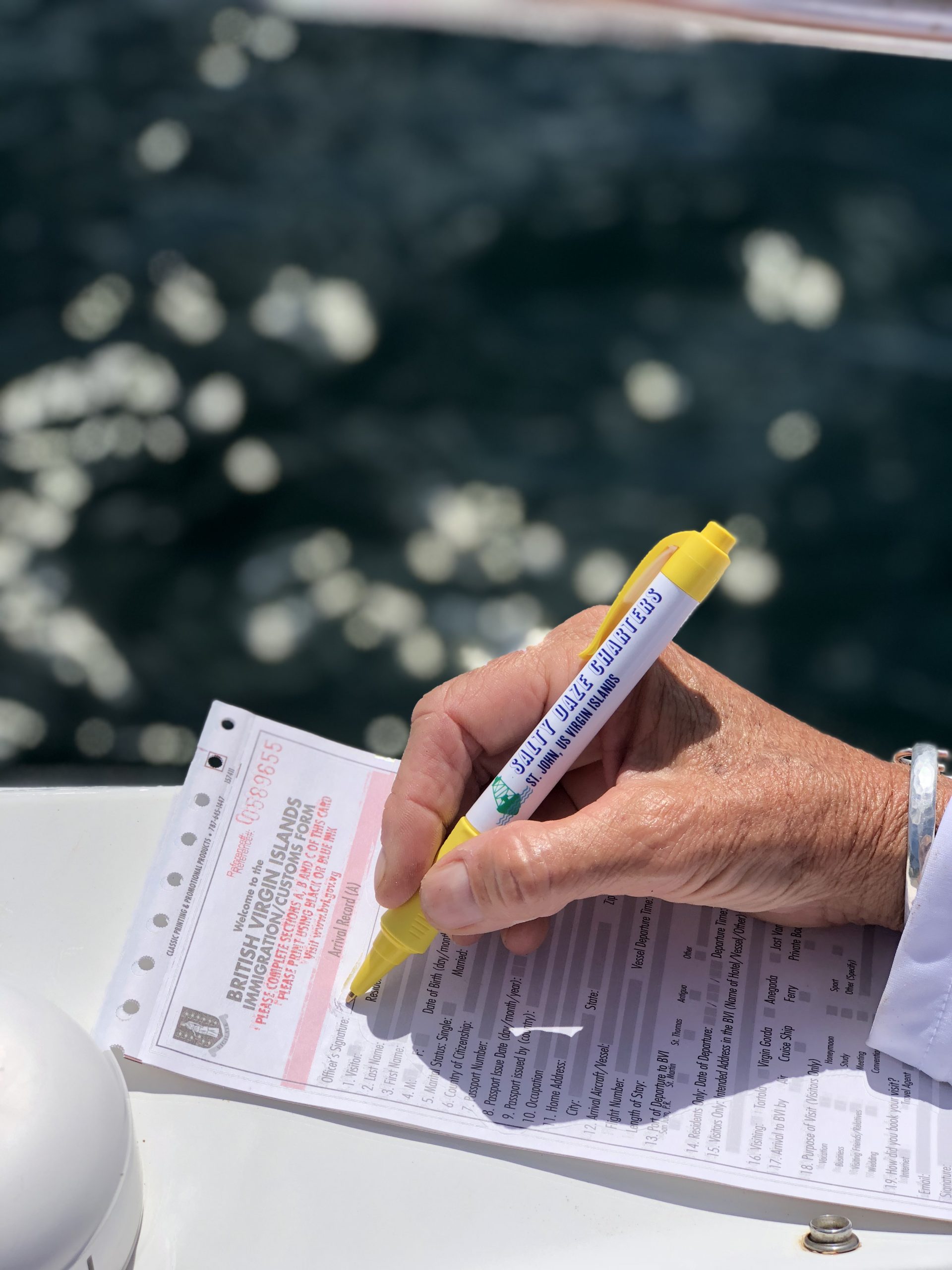 Customs Procedures aboard Salty Daze USVI
When considering booking a charter on Salty Daze USVI, your options are plentiful. One of the most alluring is cruising across Sir Francis Drake channel to the British Virgin Islands. With world famous spots like Soggy Dollar, Foxys, The Baths, The Indians, and of course the Willy T, why wouldn't you want to make the quick ride to our friends across the channel? However, there is one formality that must be taken care of before the British Virgins Islands adventure can begin.
Like visiting any foreign country, you must clear through customs. One of the nice parts of chartering Salty Daze USVI is that you, the guest, can just sit back and relax while your captain takes care of business. Our captains are well acquainted with not only the process and documents required, but also the customs officers themselves. When you make enough trips to the British Virgin Islands you build a good rapport with the gate keepers to these amazing islands.
Anther plus in booking a private charter on Salty Daze USVI, is we fill out all the paperwork ahead of time. Ms. Kate will be more than happy to take your information and have all forms and documents filled out before you even step foot on board Salt Shaker. Not all operations do this for their guests, but we'd rather you spend your day with us having fun, not working through multiple and lengthy forms. As you arrive at one of the many Ports of Entry (port depends on your plans for the day), your captain will collect your Passports and entry fees (cash is king), then off to the customs desk to clear in. All the while you can sit back, enjoying cocktails, the scenery, or maybe a delicious Irie Pop! If you clear in on Jost Van Dyke, and this is were that rapport comes in, your captain can request that his guests be allowed to depart the boat and start exploring while he takes care of the paperwork. Foxy's Tamarind Bar and Corsairs are both fantastic spots to grab an adult beverage, possibly a mimosa or bloody mary, and both are just a few steps from the dock. If fresh juice is what you are looking for, head to Pinky's stand, literally right next to customs. She makes fresh squeezed juices and the most delicious Johnny cakes! Once the paperwork is all completed, you've explored and passports stamped it's off to your first destination!
Finally, after an amazing day of salt spray and sun play it's back to the great USVI. When you arrive back at Cruz Bay you'll have to clear back in to the US. Again, Ms. Kate and our captains have taken care of all the paperwork and will escort you up to the US Customs office to make your trip official. This is not as much fun as earlier in the day, but we believe in helping keep our nation safe!
Hope you enjoyed this little tidbit about the customs procedures and how to make your day "abroad" as simple and enjoyable as possible! Book now to join us on the best private boat charter on St. John. Stay Salty Friends!