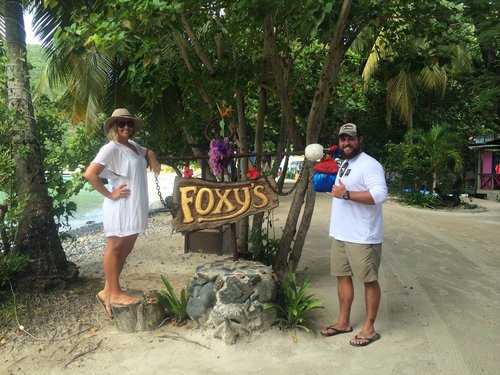 Boat Charter To Foxy's Taboo
Most of us have all heard of Foxy's Tamarind on Jost Van Dyke in Great Harbor, but did you
know there's another Foxy's? About 3 miles to the east and around the corner in Long bay,
nestled right on the shore line is Foxy's Taboo. When you're on Sandy Spit and look back
towards JVD it's tucked in off to the right. You won't see big signs or flags, but you will see
plenty of dingy's and sailboats sitting on moorings just off the beach.
This gem was badly beaten by Irma/Maria in 2017, but is back to its wonderful glory again. All
new bar, decks, and sun shades made of recycled sails, make this a great stop off on your day
cruising the BVI. Pull up to the dock, which is small, but more than accommodating, and head
ashore for a great atmosphere, better conversation (sea stories!), and a delicious menu featuring
Mediterranean fare. Little tip, try the Mediterranean Salsa with house made chips, a favorite
with Captain Justin and Captain Gregg! Regular cruisers and visitors make this a regular stop on
their navigation through the islands. The beach is a great spot for the kids to run around, snorkel
around the rocky shore line on either side of Foxy's, or just grab a float and enjoy some island
time.
Taboo is a memorable spot to round out a day before heading back to St. John, or a mid-day pit
stop for great food and even better cocktails. If you'd like to experience a unique and special
place, Foxy's Taboo is the place to go, and Salt Shaker is the boat to get you there!